John Cage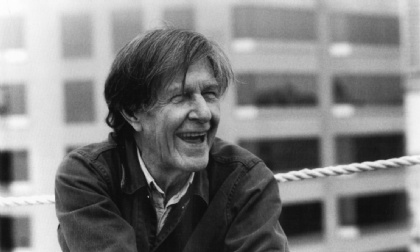 © Betty Freeman

John Cage was born on September 5, 1912 in Los Angeles, California and died in New York City on August 12, 1992. He studied liberal arts at Pomona College. Among his composition teachers were Henry Cowell and Arnold Schoenberg.

A pioneer of indeterminacy in music, electroacoustic music, and non-standard use of musical instruments, Cage was one of the leading figures of the post-war avant-garde. Critics have lauded him as one of the most influential American composers of the 20th century. He was also instrumental in the development of modern dance, mostly through his association with choreographer Merce Cunningham, who was also Cage's romantic partner for most of their lives.

In 1930 he moved to Europe and started studying gothic and greek architecture with Ernő Goldfinger in Paris an piano with Lazare Lévy who introduced him to Johann Sebastian Bach's music. His first compositions were created using dense mathematical formulae, but Cage was displeased with the results and left the finished pieces behind when he left. Cage's association with theatre also started in Europe: during a walk in Seville he witnessed, in his own words, "the multiplicity of simultaneous visual and audible events all going together in one's experience and producing enjoyment."

Back to the United States, Cage dedicated himself to composition studies with Richard Buhling, Adolph Weiss and Henry Cowell. He took some lessons at the "New School of Social Research" in New York before working with Arnold Schönberg. Cage was elected to the National Academy and Institute of Arts and Letters and received innumerable awards and honors both in the United States and in Europe. He was commissioned by a great many of the most important performing organizations both here and abroad, and maintained a very active schedule.

After marrying Xenia Andreyevna Kashevaroff, he moved to Seattle in 1938 where he was working at the Cornish College of the Arts in the dancing department. Aside from teaching and working as accompanist, Cage organized a percussion ensemble that toured the West Coast and brought the composer his first fame. His reputation was enhanced further with the invention of the prepared piano. This concept was originally intended for a performance staged in a room too small to include a full percussion ensemble.

Since 1942 Cage established his career as a composer in New York and divorced his wife. He continued traveling through the USA, Europe and Asia in order to give lectures and concerts. A concert in 1943 in the Museum of Modern Art made him famous in the avantgarde scene and he met artists, dancers and musicians, e.g. Marcel Duchamp. He became romantically involved with the choreographer Merce Cunningham and they lived and worked together with the painter and happening-artist Robert Rauschenberg.
By studying Erik Satie's music and texts by Henry David Thoreau and James Joyce, Cage developed his own form of music about music and text about text.

www.johncage.org


A virtue out of necessity: under Cage's hands the preparation of the piano developed from a flash of inspiration into a distinctive mode of expression.


The master of the prepared piano tackles small musical forms with his accustomed originality in his Sonatas and Interludes.


John Cage never came to a standstill: until the very end he kept on searching for (and finding) hitherto unexplored new forms of artistic expression.


In 1951, after numerous solo compositions, Cage tried his hand at a piano concerto, naturally for the prepared variety. And in marked contrast to the concerto: Sixty-Eight.


"Six Melodies" (1950) and "Thirteen Harmonies" (1985): Annelie Gahl (violin), Klaus Lang (Fender Rhodes) and col legno present an excitingly accessible John Cage.