About the album

On his new album "Karkosh", the Austrian pianist David Six shows the impressive results of his engagement over the course of almost two and a half years in, and with, the sacred space, which he describes as "praying to music." Practicing, playing and composing music on a daily basis in a Frankfurt church inspired in him an intensive examination of the creation and impact of music. His recordings of his own compositions on this album combine sound and space, art and spirituality, melding these together to a greater, transcendental whole. A journey in search of the essence of music that is worth listening to.

Artist's Note

By David Six

Over the course of the last two and half years, I have spent my spare time in a church in Frankfurt. In this space, large, pleasant, palpably charged with spirituality, where there's also a good grand piano, one which is at my disposal day and night.

Making music is a craft, as is blowing glass or driving a well. You practice, learn and do. But the fact that every kind of craftsmanship also allows – if it does not exact – an examination of a level beyond the purely (sound) material, is something I was able to experience through the ritual of my church visits, which developed into a prayer to music.

For me, music is no longer the artistic stringing together of polished sounds, counterpoints and accentuation. Rather, it reveals itself as a substance which lies between two tonal events. My understanding of music is as something which also exists outside of our interference, as something transcendental. And yet it is nevertheless dependent upon me. Music certainly doesn't need a church. But it is the church which taught me this.

About the artist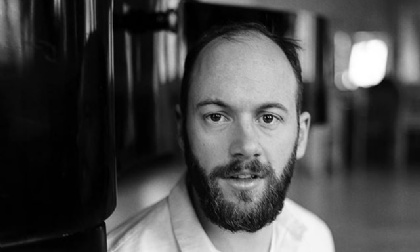 © Theresa Pewal
David was born in 1985 and grew up in a family rooted in Austrian Folk music. At the age of six he began playing classical piano. Soon it was clear that improvisation would take a leading role in his life. After studying piano at Anton Bruckner Privatuniversität in Linz, he left Austria to study Indian Classical Music with Manickam Yogeswaran in Berlin and later with Pandit Shailendra Mishra in New Delhi.

As a composer, David has worked in many different settings, ranging from solo piano to full orchestra. In 2018, he was rewarded with the Upper Austrian State Government Price (Landeskulturpreis) for his work platonic solids (op. 84). In 2016/17 David was nominated for the fifth edition of "The New Austrian Sound of Music", a music support programme of the Austrian Ministry for Foreign Affairs.

As a soloist and as a member of Stargaze, an ensemble working in classical and classical-contemporary music, David collaborated with many outstanding artists in genres of contemporary pop, electronica and various other genre, such as Aart Strootman, Dach, Shara Worden, Woodkid, Mira Lu Kovacs, Astronautalis, Daníel Fridrik Böðvarsson, Bryce Dessner, Laura Winkler's Wabi-Sabi Orchestra, Awir Leon, Morris Kliphuis, The Barr Brothers, Terry Riley, Ramsch & Rosen, Bill Frisell, Astronautalis, Andrej Prozorov, David Six' Matador, Wanja Slavin, Tarun Balani, Nora Fischer, Alexi Murdoch, Grant Hart, and many more.

David Six:
Instrumental
Piano
III Edition
Contemporary


Recommendation
En dehors is the debut album of the aspiring chamber music ensemble Spectrum Saxophonquartett


Wolfgang Mitterer - two-time recipient of Austrian Film Music Award - hereby presents his "temp tracks" (music that serves as a preliminary soundtrack for films).


BONECRUSHER: music ranging from sound-sculpture noise drones to walls-of-Jericho-collapsing blasts to delicate webs of air and tone, resonating overtones with layered articulations.