Editor's Note

The length of a coastline cannot be precisely defined. We should all take note of this, please! For this mathematical phenomenon, which is explained with impressive terms such as fractal, infinite dimension and Haußdorff measure, has given its name to a fantastic young band. A band which present their debut album here, Welf & Eiger - the music was rehearsed at Welfenstein Castle in the South Tyrol, and recorded in Bern in the studio of the university at Eigerplatz. The quintet are active in exactly that space between ocean waves and landmass, between sea spray and scree, movement and rigidity, fluid and fixed. This area is all one experimental field. Taking a measuring device yields no conclusion. The more exactly you measure, the larger the result, diverging to infinity. Translated into the music this means, in the words of Richard Köster, the ensemble's founder, trumpeter and composer: "The more closely you examine it, the more nuances you can discover."

Lineup

All tracks written and composed by Richard Köster

Richard Köster (DE), trumpet & flugelhorn
Damian Dalla Torre (IT), tenorsax
Felix Römer (DE), piano
Marc Mezgolits (AT), bass
Valentin Duit (AT), drums

Recorded by Lukas Rutzen at HKB Studios, Bern
Mixed & mastered by Martin Ruch at Control Room, Berlin

About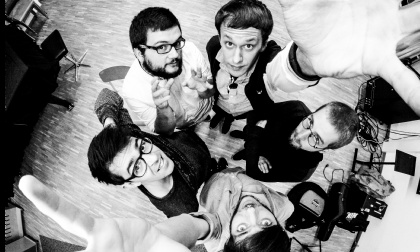 © Richard Köster

Coastline Paradox is a young quintet from Germany, Austria and Italy, founded in 2017 by Richard Köster. The ensemble's music is inspired and powered by a very particular phenomenon.

The coastline paradox is the name given to the observation that the coastline of a landmass has no clearly definable length. The length instead depends on the method used to measure it. Due to its fractal nature, the length of every coastline diverges in ever-smaller measurements to infinity.

On every coastline, the different and the distant merge into a mixture which can only be found exactly there. The more closely you examine this area, the more wondrous nuances you find. Coastline Paradox's music moves in exactly this liminal area between different worlds, focusing on a love of detail. It becomes exciting at the point where a musical sea of possibilities meets the culture of the mainland. The point where sand and sun or sea spray and storm are found. A place where sometimes you want to listen quietly, and sometimes you are overwhelmed with wonder.
Instrumental
Ensemble
BRIGHT colors Edition
Contemporary


Recommendation
[...] contains pop music of stunning grandeur, and of moving simplicity. Sincerely recommended!


Lauermann presents his solo debut, and invites us to listen into the "the great spaces all around" – spaces of memory, chambers of sensation, places of yearning.


The composer Matthias Jakisic creates in "Fragmente" an original vision of what classical string quartets in the 21st century might sound like.