Fair [Official Music Video]

Editor's Note

It's not just that you'll think: Wait, don't I know that name… "Emily Stewart"? You'll also feel like you've heard that music before. You have to have had! Except that The Anatomy of Melancholy is actually Emily Stewart's debut album. Born in London and raised in Costa Rica, the violinist and composer Emily Stewart now lives in Vienna. She regularly tours with the celebrated Austrian popstar Anja Plaschg (a.k.a. Soap&Skin), the Scottish indie pop group Belle and Sebastian, and with the Swedish jazz pianist and composer Jan Lundgren. Here's her first own album then, which is an utterly convincing and eclectic combination of classical, jazz, and folk elements with a dash of improvisation and a soupçon of a singer-songwriter's perspective. It's a musical narrative based on Robert Burton's 1621 tome of the same name: a continuous shift from longing to melancholy with stops everywhere between.

Lineup

Emily Stewart, violin, viola, texts & composition
Lukas Lauermann, cello
Philipp Kienberger, double bass
Lauri Elling, narrator

Artist's Note

The Anatomy of Melancholy is an intimate album of contemporary chamber music written for violin, cello and double bass, interspersed with short passages of spoken word and songs with piano accompaniment. The pieces are a mix of arrangements, original compositions and improvisations that although new, invoke familiar sounds from the past. Much like the fanciful whims of a child, I have taken my music picks freely, arranging some pieces from Béla Bartòk's Mikrokosmos, but also songs by Jackson C. Frank and Ernie Burnett. My own compositions borrow unabashedly from ideas across the musical spectrum as well as from my own multicultural background. At its core though the album stays true to itself as it presents an introspective cornucopia of melancholy, minimalist music. It is an album about longing and vulnerability and laying one's soul bare.

Sara Mohr-Pietsch, BBC Radio 3:

"A wonderful hodgepodge very skilfully navigated of folk and ambient music and spoken word and contemporary classical work."

About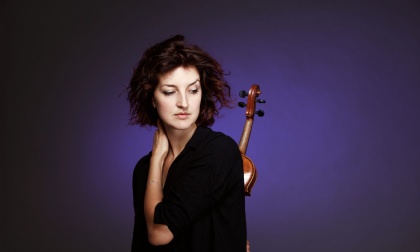 © Maria Frodl

Emily Stewart, born in London and raised in Costa Rica, lives and works in Vienna. She studied classical music as well as jazz and improvisation; her own work weaves these diverse influences into a unified whole. As an instrumentalist, her unique flexibility and sensitivity have made her a sought-after musician, both live and in the studio. She has performed throughout Europe with various pop and jazz ensembles, appearing in such festivals as Summer Nostos Festival Athens, Printemps de Bourges, Jazz Festival Copenhagen, Time in Jazz Sardinia, Jazz Festival Saalfelden, or Les Nuits de Fourvière. An accomplished theatre musician, Emily appears regularly with the American performance group Saint Genet and in several productions at the Vienna Burgtheater.

The Hidden Kingdom [Official Music Video]
1CD
Vocal
Instrumental
Ensemble
BRIGHT colors Edition
Jazz
Contemporary


Recommendation
New music and groove – does it work and does it exist? Musical crossover artist Ketan Bhatti nods ... and delivers proof with his solo debut Nodding Terms

!


Welf & Eiger. A place to marvel. A place to listen carefully.


The composer Matthias Jakisic creates in "Fragmente" an original vision of what classical string quartets in the 21st century might sound like.