Editorial

The sounds on this album seem to come from another world. They spread through space, then disappear, or rather: fade away, evaporate, crystallize, settle as a sedi- ment. This music is about fading away, about reverberations, echoes. European instruments sound Asian, and Asian instruments are integrated into European art music. Xiaoyong Chen, who emigrated to Germany in 1985, once a student of composition with György Ligeti and now a professor of composition at the Hochschule für Musik und Theater Hamburg, never ceases to explore issues of identity, of belonging, including the fundamental question: Is it actually possible to understand a foreign culture? "A great sound is inaudible, a great image is formless," Laozi's famous observation, is printed in Chinese characters on the cover of this recording (by the Ensemble Les Amis Shanghai under the direction of Jensen Horn-Sin Lam).
There is but one more thing to add: The great questions are eternal.


Xiaoyong Chen: Imaginative Reflections

Wandering Illusion for sheng, clarinet, violin, viola,cello and piano (2016)

I. ... from the distance
II. Lightness
III. Vibrations in the air
IV. Twinkling
V. Wood, Water and Metal
VI. Bell and Songs

Diary V – Five Pieces for quarter tone piano (2013)

I. Farben in Bewegung
II. Filterung
III. Ohne Titel
IV. Reihungen
V. Zoom Out
Imaginative Re ections for clarinet, violin, cello and piano (2015)
I. Crystallisation
II. Lights
III. Waves
IV. Reflected sculpture of light
V. Sound of light
VI. Untitled Song
VII. Silentium
Evapora for flute, clarinet, violin, cello and piano (1996)
I.
II.
III.
All tracks written and composed by Xiaoyong Chen (published by Internationale Musikverlage Hans Sikorski GmbH & Co. KG)
Jensen Horn-Sin Lam, artistic director, viola; Shuting Wu, violin; Yuan Zhang, cello; Cong Li, clarinet and piano solo (Diary V); Xiangjun Yu, piano; Jing Yao, flute; Junjun Tian, violin; Jiannan Chen, sheng; Le Dai, clarinet
This CD was commissioned by the Shanghai Conservatory of Music and the Gaofeng Gran Support Project. Special thanks go to the Beijing Capital Normal University's College of Music and the Shanghai Tongxinzhai Gallery.

About: Xiaoyong Chen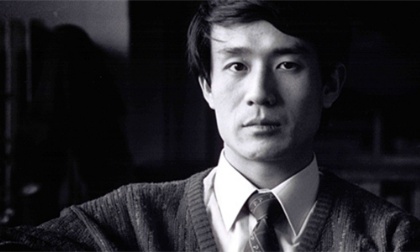 © Friedrich Riehl
Xiaoyong Chen (b. 1955) is a Hamburg-based composer whose eclectic oeuvre has been praised by the NDR as being a "bridge between the Chinese art world and the European avant-garde" and by the Zürcher Oberländer as being a "delicate and sensitive ... ligree of tones and colors."
Chen's works have been commissioned and performed by many of the world's most renowned music festivals including Donaueschinger Musiktage, Holland Festival, ISCM World Music Days, Festival Présences (Radio France), Tangle- wood Festival, Hudders eld Contemporary Music Festival, Warsaw Autumn, Cologne Music Triennale, Munich Biennale, Schleswig-Holstein Music Festival, among others. His international career has led to close collaborations with the SWR Symphony, NDR Symphony, KBS Orchestra, Munich Philharmonic, Zurich Chamber Orchestra, Ensemble Modern, London Sinfonie a, Ensemble Intercon- temporain, Auryn Quartet, Ardi i String Quartet and many others. Highlights of Chen's career include a portrait CD by the Deutsche Kammerphilharmonie Bremen (lauded by the Neue Zeitschri für Musik), a portrait concert by the NDR Symphony, Hamburg's Bach-Prize-Scholarship and Munich's Chr. & St. Kaske Prize. As an educator, Chen is a professor of composition at the Hamburg HfMT, and has accepted various professorships at the Shanghai Conservatory of Music, the Central Conservatory of Music Beijing, and has been the com- poser in residence and an artistic advisor of the Danube University Center for Contemporary Music.
After studying composition at the Central Conservatory of Music Beijing, Chen studied at the Hamburg HfMT with György Ligeti (1985–1989), maintaining a close friendship with him until his death in 2006. Chen's works are exclusively published by Internationale Sikorski Musikverlage. In 2005 Chen became a member of the Hamburg Free Academy of Arts.

More to follow very soon...
1CD
Instrumental
Contemporary
PRIME colors Edition


Recommendation
The combination of percussion instruments and electronics opens up a immersive sonoric landscape


Klangforum Wien presents works by the (almost) forgotten composer Lucia Dlugeoszewski.


There's a future in being on the move. The new album "Wunderrad" by the Alpine chamber music ensemble Knoedel tells twelve musical stories about wonder and wonder.