Editor's Note

The compositions of native Viennese Thomas Wally (1981), which the fabled Mondrian Ensemble have so marvelously put down on this, the composer's first portrait recording, might just be considered the dawn of the latest in new music. We can marvel at the unique language and character in Wally's works from the last ten years – among them two piano quartets, a string trio, and a 15-minute long piece for solo violin – and at his keen desire for experimentation and liberty which he combines with the utmost of conceptual seriousness. We can hear playful curiosity and profound knowledge at work in these compositions, seamlessly conjoined. A wealth of detail and vision; poetry coupled with absolute clarity. In that sense, and many others, Thomas Wally's music is "visceral; even displaying a downright haptic quality", as his renown Swiss colleague Dieter Ammann lauds Wally's music in the liner notes.

Lineup

MONDRIAN ENSEMBLE
Ivana Pristašová, violin
Petra Ackermann, viola
Karolina Öhman, violoncello
Tamriko Kordzaia, piano

Thomas Wally, violin (tracks 2, 4, 6, 8)

First Listener's Note

[…] Wally has an innate sense for dramatic trajectories throughout; ditto for proportions, for the pliability of individual musical ideas ... in short: for shaping time with sound. All the works on this disc have another thing in common: beneath the surface, vividly shaped by often powerful gestures – that layer of primary, principally audible information – hides a carefully assembled wealth of ideas. It is an artful, but never artificial music. It allows for many things, without ever becoming indiscriminate. Wally himself speaks of composing as "hard work", but he also mentions the "almost childlike joy of playing with the material; an ultimately very positive underlying emotion."

His music allows us to experience both and, depending on your subjective response to it, dear listener, probably much more still. You might, therefore, want to lend your ears to these recordings not just for a first listening, but several repeat listenings. You will not regret it!

Artist's Note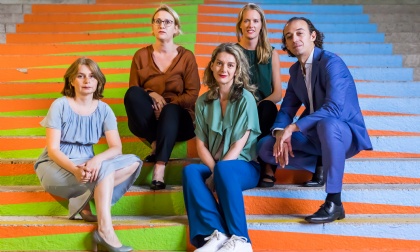 © Markus Sepperer
To call the recording at hand a life-time project would be a bit far-fetched. But it certainly is the project of a decade, in more than one way. For one, there are the compositions that are included on it, which span roughly ten years, from transfigurations for piano quintet, which was premiered at the 2008 Bregenz Festival, to my second piano quartet, Les îles des nombres III (2 × 12 × 12 × 4). Further, this recording was made almost exactly ten years after I first got in touch with col legno. And finally, there is an element to this recording that tells of a friendship that began a little over ten years ago in Vienna and extends now to the whole Mondrian Ensemble. [...]

1CD
Instrumental
Ensemble
PRIME colors Edition
Contemporary


Recommendation
A "Best-Of" the extraordinary late night concerts with Marino Formenti, recorded at WIEN MODERN 2011!


Compact acoustic events in Vento d'ombra are pitted against the sharp contrasts of the Due notturni crudeli and the subtle art of the dramatic persiflage in Lohengrin.


For the very first time in the almost 200 year old history of the Musikkapelle Innervillgraten their legendary mourning marches will be published on a record!